The music of many rastafarians address a myriad of social issues.

Photo taken from: http://www.cartoonstock.com/lowres/pwo0028l.jpg The influence of Rastafari music on fashion dreads
Music is a very important part of Rastafarianism. Roots reggae is the genre of music that has been linked to Rastafarianism because of the influence of the different artistes who fall under this category. There are many rastafarian artistes who have sung extensively about rastafarianism, poverty and the "oppressive babylon system" (The government).
Robert "Bob" Marley is one of the more prominent Rastafarians who have contributed to the popularity of the movement. Bob Marley was born in Jamaica, and it can be said that he is the main reason why rastafarianism is synonymous with Jamaica, internationally. He is seen by many as a prophet of the movement and has brought to the world songs such as "No Woman No Cry", "Resemption Song" and the very popular, "One Love".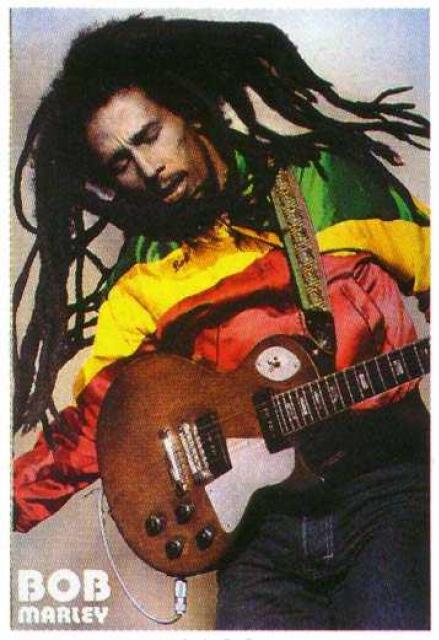 Bob Marley during one of his many performances before his death in 1981, at age 36.
Photo taken from:http://www.cs.hmc.edu/~rmcknigh/soc71/photos/std_Bob_Marley_poster_2.jpg
Bob's songs have transcended cultural, economic, political and social boundaries, and he is often referred to as one of the pioneers of reggae in Jamaica. His 1984 album,
Legend
, which was released after his death, is the best selling reggae album of all time, amassing sales in excess of 12 million copies. Bob Marley along with other Roots Reggae pioneers, have had significant influence on the musical culture of Jamaica. They have created a music genre that is unique yet infectous. It is this, among other characteristics, that has made Rastafarian music popular, even today.
"The creative pinnacle of roots reggae may have been in the late 1970s, with singers such as
Burning Spear
,
Gregory Isaacs
,
Freddie McGregor
, Johnny Clarke, Horace Andy,
Barrington Levy
and Linval Thompson teaming up with studio producers including
Lee 'Scratch' Perry
, King Tubby, and Coxsone Dodd. The experimental pioneering of producers within often-restrictive technological parameters gave birth to dub music, which has been considered one of the earliest contributions to the developments of Techno music." (Source: http://en.wikipedia.org/wiki/Reggae).
Bob Marley performing his hit song "War", which addresses the conflict between races, colour and countries. Select the links below to watch more Bob Marley videos:
Natty Dread-Bob Marley
Roots, Rock, Reggae-Bob Marley